If you are planning a wedding, you must check out Pinterest. Yes, it is another form of social media and can be a total time suck, however, it is an incredibly easy way to keep all your online wedding inspiration in one place and to easily find new ideas to "pin". Pinterest lets you organize and share all the beautiful things you find on the web. People use pinboards to plan their weddings, decorate their homes, and organize their favorite recipes.
Best of all, you can browse pinboards created by other people. Browsing pinboards is a fun way to discover new things and get inspiration from people who share your interests. To get started, request an invite from their home page.  Typically you will recieve the invitation via email within a few days.  Here is an example of a pinboard for planning a wedding.    Pinterest is a great way to share your ideas and vision with your wedding vendors as well as your bridesmaids and mom.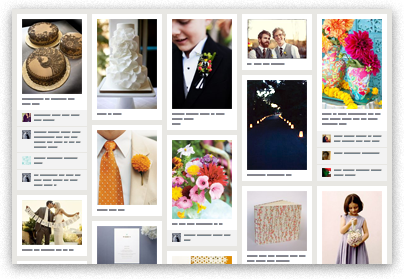 You can follow us on Pinterest for wedding ideas and inspiration!